Some weeks ago I have written about 25 Best License-Free Quality fonts; surprisingly, the article has become quite popular, many artists who have created the fonts listed in my list were either angry or happy about the traffic my article has brought to their sites.
However, since the topic I have written about was both extremely useful and unique for the visitors of my page, I decided to publish an article about the best quality pixel fonts: working on my last project (it's not online yet), I needed something serious, official, good-looking and readable. The results can be found below.
Actually, pixel fonts can be used in every project and fulfil different purposes. I prefer to use them for small buttons such as "sign-up" or "log-in" images together with marvellous FamFamFam Icons which can breathe a new life in a "too" official and serious text presentation. Nevertheless, pixel fonts are still a trend, so, i.e., most "Creativity-Inspiraion-Idea-Generation"-sites (such as Wellvetted.com, Uncontrol.com and other similar projects) make use of it. Actually, it's just a matter of your personal taste. Hm… Any ideas how a web-developer could use pixel fonts? Write in the comments!
So, now let's take a look what the web-community has to offer for those, looking for professional license-free pixelfonts.
PS: You should probably also take a look at the following web-pages:
Most fonts presented below are license-free which means that you can use them for both private, personal / sometimes also commercial purposes without any limitations whatsoever. Nevertheless, the disclaimers are changing from time to time, so you better first take a close look at disclaimer before using the font in a commercial project.
If you have any comments or suggestions, please let me know (or just comment on this article).
15 Best License-Free Pixel Fonts
(compiled by
Vitaly Friedman
)
0. Unibody: Description and Download
1. Silkscreen: Description and Download

2. 04: Description and Download

3. Monospace/Fixed Width Programmer's Fonts: Description and Download

The fonts are supposed to be used for the presentation of programming code, but they can be used for web-development as well.
4. Michael Schmidt's Semplice Pixelfonts: Description and Download


Source: http://pixelfonts.style-force.net. All Fonts are free for personal use only.
5. Samson Light: Description, Download

6. Aux DotBitC: Description and Download

7. Pixelette Qwerty: Description and Download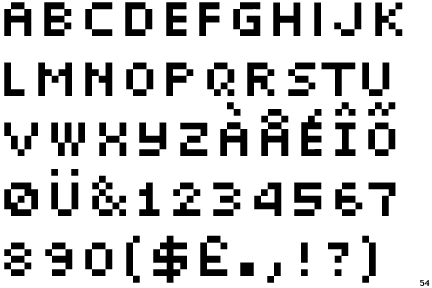 8. Pixel Ex: Description and Download

9. FontForFlash Freebies: FFF Atlantis: Description and Download

10. Pixelation: Description and Download

11. Standard: Description and Download (Mac only!)

12. Visitor: Description and Download

13. Bitdust Two: Description and Download

14. Bit Low: Description and Download

15. Bit Trip 7: Description and Download

Update: 16. Webby Small: Description and Download
No advertisement, just useful content: support the project and the author, donating via PayPal
» Web-development, Web-Resources @ Dec 31, 05:40 PM
sIFR: Rich typography for masses « previous - next » Happy New Year 2006!